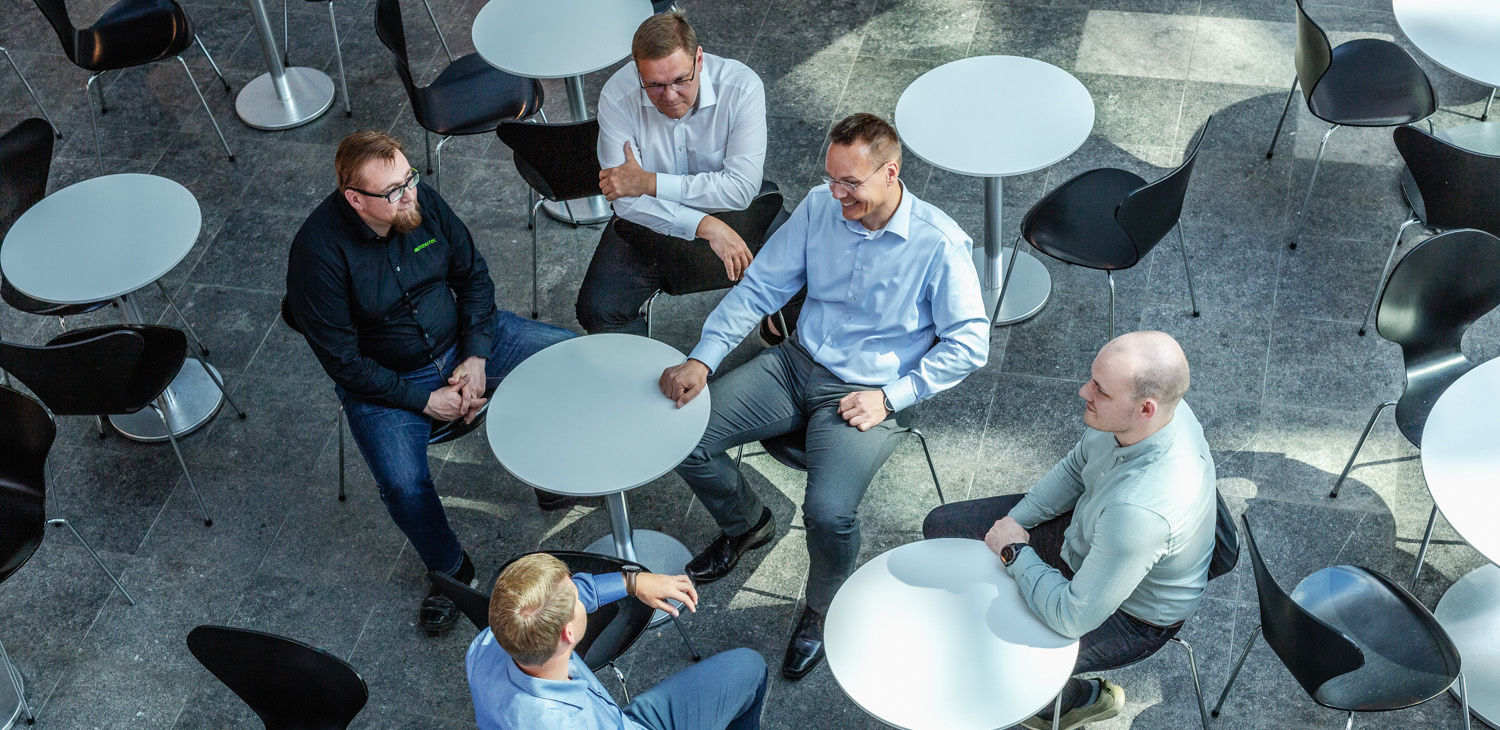 KONTAKTIEREN SIE UNS
WIR STEHEN IHNEN ZUR VERFÜGUNG!
Unsere Standorte
Filter nach

Mekitec Oy
(Teknologiantie 3, Oulu, Finland)

Mekitec Oy
(Tekniikantie 12, Espoo, Finland)

Mekitec Oy
(Weißenbrunner Hauptstraße 8, Leinburg, Germany)

Mekitec US LLC
(2900 Gateway Drive, Ste 635, Irving Texas 75063, USA)

Mekitec HK Ltd.
(Chinachem Tsuen Wan Plaza 457 Castle Peak Road Tsuen Wan N. T., Hong Kong)

Mekitec LATAM
(Av. de las Partidas 201, Isidro Fabela, Lerma de Villada, State of Mexico, Mexico)

Petruzalek Ges.m.b.H.
(Gewerbepark Mitterfeld 8, 2523 Tattendorf, Austria)

Baltic Packaging Systems
(Veere 18, Viljandi, 71013 Viljandi, Estonia)

Verduyn
(Camplaan 22a, 2103 GW Heemstede, Netherlands)

Inteko LTD
(Leof. Geraka 75, Gerakas 153 44, Greece)

Utily
(Maršovská 1657, 688 01 Uhersky Brod, Czechia)

Misr-Vision
(01 Nefertiti Buildings, Al-Mosheer Ahmed Ismail St., Cairo, Egypt)

Elex
(Helioparc 68 100 E, rue Marie-Louise 68850 STAFFELFELDEN France)

Plastco
(Skútuvogi 10c, Reykjavík)

Packital
(Via Cardano, 40, 43036 Fidenza, Province of Parma, Italy)

Logopak
(ul. Serwituty 23 02-233 Warszawa)

Datajet
(1-я Фрезерная улица, д. 2/1, Москва, Russia)

Kafeko
(Kimmeltie 3, 02110 Espoo, Finland)

Products GmbH
(Im Wyl 31, Wiedikon, 8055 Zürich, Switzerland)

Inovateknik
(Huzur Mahallesi İnönü Caddesi, PK: 34396 Sarıyer, Istanbul)

ATCO Pack
(P3-A06-4, Empire Heights Towers, Dubai, UAE.)

Oz Packaging
(250 W Orange Show Ln, San Bernardino, CA 92408, USA)

R-Con Packaging, LLC
(Greensboro, NC, USA)

CR Technology
(2 Floor, 9# Building, Taiwan Pioneer Park, Jin Jing Wan Road, Pingtan County, Fujian Province, China)

Economy R
(1401, Vikas Centre, Dr. C. Gidwani Road, Chembur (E) Mumbai 400074)

APPS
(Block 47 Lot 9 Tropical Avenue BF International Village, Las Piñas City NCR 1740 Philippines)

Taiwan Benefit Company
(5 / F, nro 208, Ruiguang Road, Neihu District, Taipei, Taiwan)

Europac
(515 / 307-308 Soi Suan Phlu 8, Sathorn Road, Thung Maha Mek, Sathon, Bangkok 10120, Thailand)

International Packaging Machinery
(Unit 21 / 589 Withers Road ROUSE HILL NSW 2155 AUSTRALIA)

Kafeko AB
(Lagergrens gata 2, Karlstad, Sweden)

Borgaard Inspection Systems ApS
(Lærkevej 7, 9310 Vodskov, Denmark)

Kafeko AS
(Karihaugveien 89, Oslo, Norway)

CR Technology
(1502, Chuangzhao Plaza, Ailian Community, Longgang District, Shenzhen, China)

Quality Service Solutions
(Unit 24 Adwick Business Park Church Lane, Adwick-le-Street Doncaster, South Yorkshire DN6 7HD, United Kingdom)

PT. Trimitra Putra Jaya
(Jl. Lio Baru No. 37, Karang Anyar Neglasari 15121 Tangerang Indonesia)

Alyans-KM Ltd.
(Blakitnogo str. 13. Zip 03041 Kiev, Ukraine)

Dibaj Sanat Pasargad Co.
(Unit 904, 9th floor, No.6, Aseman Tower, Vanak St. Tehran, Iran)

Nam Tien Thinh
(18, Street 14, Van Phuc Urban Area, Hiep Binh Phuoc Ward, City. Thu Duc, Ho Chi Minh City)

Ibertec S.A.
(Rambla de Catalunya, 61, 08007 Barcelona, Spain)

Merit Berg Sdn Bhd
(3a, Jalan TPP 5/10, Taman Perindustrian Puchong, Puchong, Selangor, Malaysia)

Wepac
(Kobergsvägen 3, 464 40 Åsensbruk, Sweden)
MÖCHTEN SIE MEHR ÜBER UNSERE SYSTEME WISSEN?
Mekitec bietet weltweit innovative Röntgen-Kontrollsysteme für Lebensmittelhersteller an. Unsere MEKI Systeme sind speziell konzipiert, um Herstellern eine gleichmäßige Produktqualität zu liefern, die weltweiten Sicherheitsrichtlinien entspricht. Zusätzlich werden beschädigte Produkte aus dem Herstellungsablauf entfernt, um kostspielige Rückrufe zu vermeiden, die dem Markenruf schaden.
Kontaktieren Sie uns für mehr Informationen!

KARRIEREN BEI MEKITEC
Hin und wieder sind wir auf der Suche nach neuen Talenten, die unser globales Team von Röntgen-Kontrollfachleuten und Lebensmittelindustrie-Experten unterstützen. Sehen Sie bitte die LinkedIn-Seite unserer Firma für aktuelle Stellenangebote. Sie können uns auch Ihre Bewerbung mit einem Lebenslauf zusenden, wenn Sie an unserer Erfolgsgeschichte teilhaben möchten.

WERDEN SIE EIN PARTNER VON MEKITEC
Wir vergrößern ständig unser Partner-Netzwerk mit lokalen und erfahrenen Partnern aus der Lebensmittelverarbeitung und Verpackungsindustrie. Wir unterstützen und trainieren unsere Partner, um den neuesten Stand von Röntgentechnologie, Produktsicherheit und Qualitätskontrolle in der Lebensmittelindustrie zu gewährleisten. - Auf unserer Partnerseite können Sie mehr erfahren.