fast and accurate food quality control with
MIDMEKI
X-Ray
MIDMEKI FOOD X-RAY SYSTEM
The MEKI™ X-ray inspection system is designed for smaller, consumer-packaged food products, but sometimes larger products require more from the inspection system. Mekitec's MIDMEKI X-ray system is designed to address these particular concerns.
With X-ray inspection, you will be able to detect various foreign bodies or quality defects (such as missing pieces or broken products) in your food products. This will enable you to reduce the number of reclamations and to provide the safest and high-quality products to your customers. The MIDMEKI system provides excellent performance with the best value in the industry.
EXCELLENT DETECTION PERFORMANCE WITH MIDMEKI X-RAY
Inspect food products and remove the non-conforming ones quickly and accurately from your production line with our X-ray system. Using the latest in X-ray imaging and processing technology, the MIDMEKI system allows you to detect even the smallest metal contaminants, stone fragments and glass splinters, and a variety of other foreign objects, resulting in 100% food quality control. The system is designed to work even with frozen food, or food wrapped in aluminum or other metalized packaging.
Equipped with much larger tunnels and detection area, the system offers the possibility to inspect large products or even trays of several products. Our MIDMEKI system has the same features as the MEKI™ system – multiple quality inspection features, and excellent detection performance regardless of the product packaging or environmental conditions. Producers that value brand protection can rely on the MIDMEKI X-ray system for fast and accurate food quality control and inspections.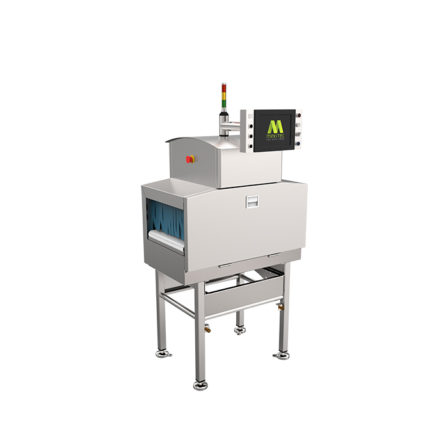 More information
Fill in the form to gain access to the datasheet and product specifications to see how MIDMEKI X-ray System fits into your production.
You can also browse our references to see what our existing customers think about our MEKI systems.
References