Make you quality control more
bullet-proof with
MEKI Data Manager
Lead Your Quality Assurance with More Accurate Data
X-ray inspection systems collect a vast amount of data from your food production. From statistics, like rejection rates and their respective time stamps, to valuable visual data – the X-ray images.
Have you thought about how you can use this information to lead your quality assurance, optimize your production processes and recipes, and achieve better traceability?
The first step is to hire yourself a Data Manager, and what would be a better solution than a tireless software that scans and digs through tens and hundreds of rows of data. It supports you in situations where:
quick actions are needed to improve the safety and quality of your products
you want to increase the traceability of your production process
you need to gather data from your CCPs to prepare for an audit
there's a need to analyze a lot of data, for example, to teach AI-based algorithms
The MEKI Data Manager allows you to do just that – and more. It's a part of the Data Analytics product family, which aims to modernize the way data is collected and used in food production companies.
Contact us for pricing details
What Makes Data Manager Different from Other Data Solutions?
X-ray inspection systems provide a vast amount of data that hasn't been fully utilized – until now. The MEKI Data Manager allows you to "see inside the mind of the control point" and analyze the data with your own eyes. This becomes especially crucial when eliminating false rejects, pinpointing malfunctions in the upstream equipment, and improving your product recipes to ensure that your product quality is always at the desired level.
The X-ray images also work as a building block for better food traceability and food defense. Imagine a situation where you receive a complaint from your retailer or a consumer claiming that there was a foreign object in the food product they bought. How would you ensure that the contamination hasn't gone through your critical control points?
With time-stamped X-ray images and the MEKI Data Manager, you are able to see what products were contaminated, if any, and issue a highly-targeted recall to the affected batch only.
Contact us for more info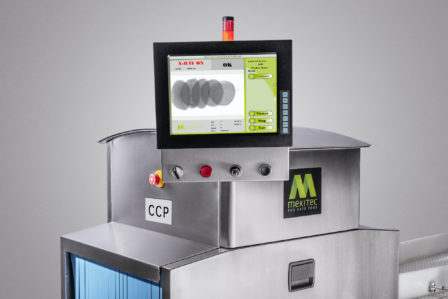 Contact us to get started
Take the Data Manager for a test drive
Not sure if the MEKI Data Manager is something you need? Take it for a test drive without any commitments, and we're sure you'll see the benefits yourself!
Start your Data Manager journey!