FINNISH FISH PRODUCER INVESTS IN
FOOD SAFETY
AND QUALITY CONTROL
The history of Kalaneuvos began in 1975 when the founder and CEO Veijo Hukkanen established a smokery on the grounds of his home farm in the town of Sastamala in southwestern Finland. With an increase in demand, the company decided to expand its business from fish smoking to fish processing. Since then, Kalaneuvos has become the largest fish industry operator in Finland and a true forerunner in the business.
The company's most important product groups include lightly-salted sliced fish, hot-smoked fish, and cold-smoked fish as well as fresh fish fillets. The company makes all of its processed fish products in Finland. Raw materials are sourced directly from fishermen, fish farmers, and the company's own fish farming plants.
In addition to fish processing, Kalaneuvos wholesales, imports and exports fish and fish products. Currently, the company processes over 10 million kilograms of fish per year.
In 2017, exports accounted for 20 percent of the company's revenue and in 2019, Kalaneuvos announced that it had been awarded an export license to China. Kalaneuvos is the first company in the Finnish fish industry to obtain such a license. There is great interest in responsibly-produced Finnish fish products and, consequently, Kalaneuvos expects its exports to increase substantially in the near future.
Kalaneuvos products are known for their flavor. This is achieved by using fresh, high-quality raw materials, highly-refined production and processing methods, and strict quality control measures.
The company has a strong focus on product development and keeps its production facilities, methods and equipment well up to date. This focus serves to further strengthen the company's position as a forerunner in the Finnish fish industry.
Additionally, the company has invested heavily in reducing its water use and environmental loading as well as improving its energy efficiency. As an example of the company's efforts, all parts of the fish are utilized in the company's production process, eliminating material waste. Additionally, any parts of the fish that cannot be utilized in human food products are transported to animal feed plants.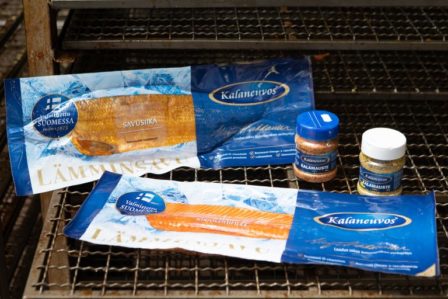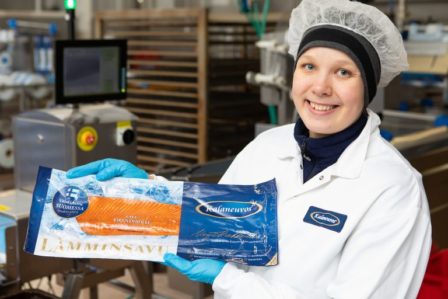 IMPROVING QUALITY CONTROL PERFORMANCE
Quality is one of Kalaneuvos's key values, as evidenced by a large number of quality certificates received by the company. In 2014, the company was certified under the FSSC 22000 Food Safety System Certification framework, which inspired the company to improve its quality control performance, further strengthening its position as a forerunner in the Finnish fish industry.
In 2015, Kalaneuvos started to look into different quality control solutions, comparing their benefits and restrictions. After weighing the differences and benefits of metal detectors and X-ray inspection systems, the company finally decided to purchase a food X-ray inspection system provided by Mekitec.
"We selected the system based on various factors, such as its compact size, good detection rate and its user interface being in the Finnish language," says Kaisu Hautala, Production Foreman, Kalaneuvos Oy. Other immediate benefits of an X-ray system include the ability to detect non-metallic foreign objects and the ability to scan through metalized packaging without compromising the system's detection rate. Additionally, the high salt content of the fish products, or production facility's humidity is not a problem for X-ray technology.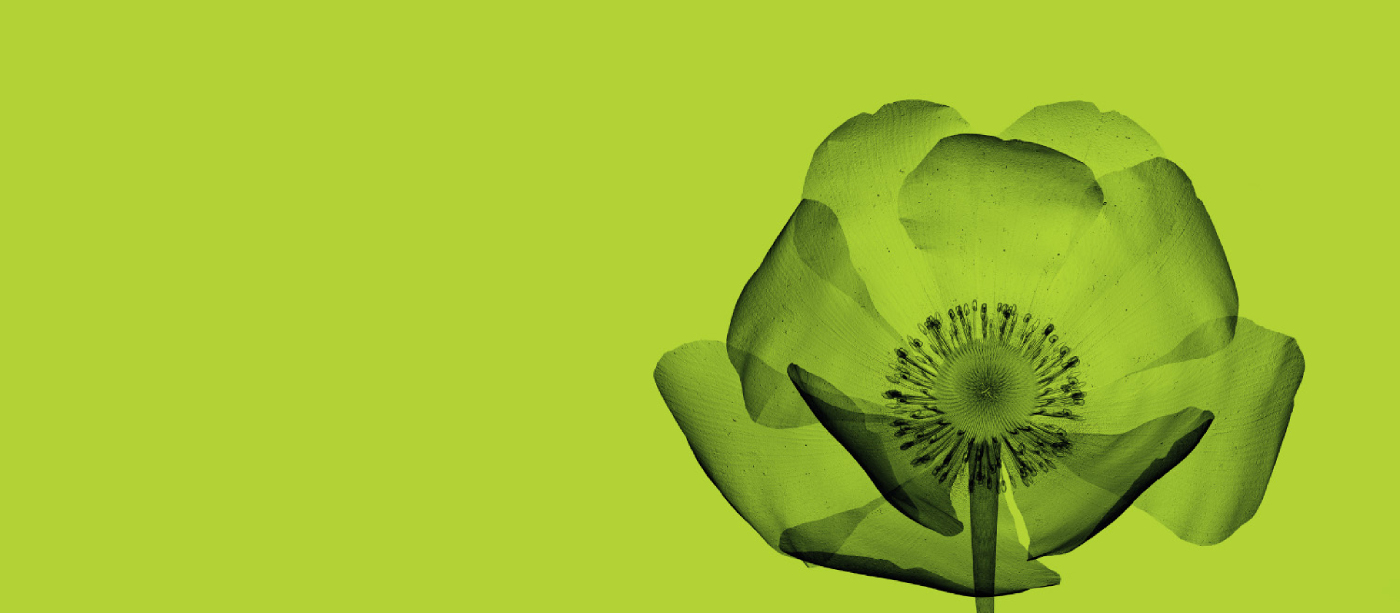 "We selected the system based on various factors, such as its compact size, good detection rate and its user interface being in the Finnish language."
— Kaisu Hautala, Production Foreman, Kalaneuvos Oy
While some of the foreign objects found in the raw materials or products can be metallic, a more typical example would be a stone, or a piece of hard plastic sheared off from a conveyor belt. One of the deciding factors in Kalaneuvos's final decision was the fact that a metal detector does not pick up non-metallic objects, whereas an X-ray system is able to detect both metallic and non-metallic foreign objects without damaging the product or its packaging.
Before the year was over, Kalaneuvos had had its first X-ray inspection system installed at the end of one of their packaging lines, where it scanned individual consumer-packaged fish products. The company was very pleased with both the system and Mekitec's maintenance service: "we did have a hiccup one time, but come next day, we already had a technician at our site taking care of the issue," Hautala says.
This kind of local service with rapid response times is vital for minimizing production downtime, which was another reason why Kalaneuvos selected Mekitec over the competition.
Soon after the first system installation, the company realized that the system should also be capable of automatically removing non-conforming products from the production line. Luckily, Mekitec's offering included a solution for this challenge: the company's portfolio includes rejecters that remove defective products automatically from the production line, minimizing the need for manual inspection. This addition allowed Kalaneuvos to further increase the automation rate of its quality control.
The success of the first system installation and excellent experiences in using the system prompted Kalaneuvos to obtain similar systems for the rest of its packaging lines from Mekitec. This way the fish producer was able to ensure a completely automated quality control process.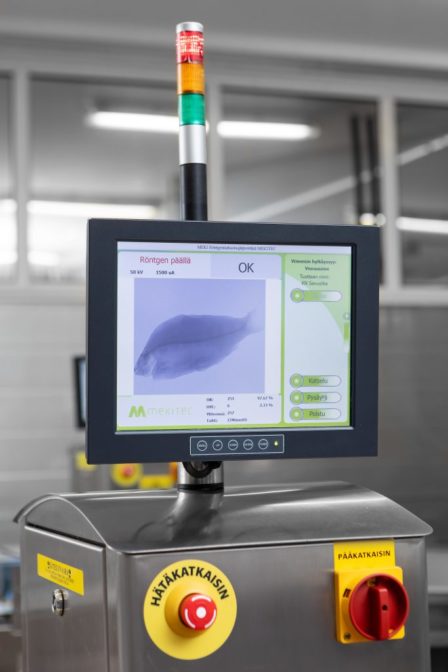 OBTAINING AN EXPORT LICENSE TO CHINA
By the end of 2018, each of the company's vacuum packaging lines had been equipped with Mekitec's X-ray inspection system and the company was very satisfied. At the beginning of 2019, Kalaneuvos became the first company in the Finnish fish industry to receive an export license to China. The company predicted that in the next few years, this license would result in a substantial increase in its exports.
Kalaneuvos understands that having a comprehensive quality control system in place makes it easier to obtain export licenses, which is a typical phenomenon when exporting food products both to Europe and to outside the EEA. When concluding export contracts, companies often encounter new or stricter laws or regulations, which must be taken into consideration in production. For example, the target country may have stricter rules regarding product packaging and its properties.
Kalaneuvos intends to start exports to China already during the year 2019 when the first section of the company's new production plant extension is commissioned. The rest of the extension is planned to be completed by 2020. With the new extension, Kalaneuvos will substantially increase its production capacity, enabling the company to increase the share of exports in its revenue. Even exports to China alone are expected to reach approximately one million kilograms per year.
Another reason for expanding the production plant is to further automate and standardize the processes, improving the company's production efficiency. This will require further investments in production equipment as well as quality control.
Kalaneuvos firmly believes in strong growth in exports and sees great development potential in the fish industry. It is the company's vision to serve as a forerunner for other operators in the industry through efficient, environmentally sustainable production of premium quality fish products.