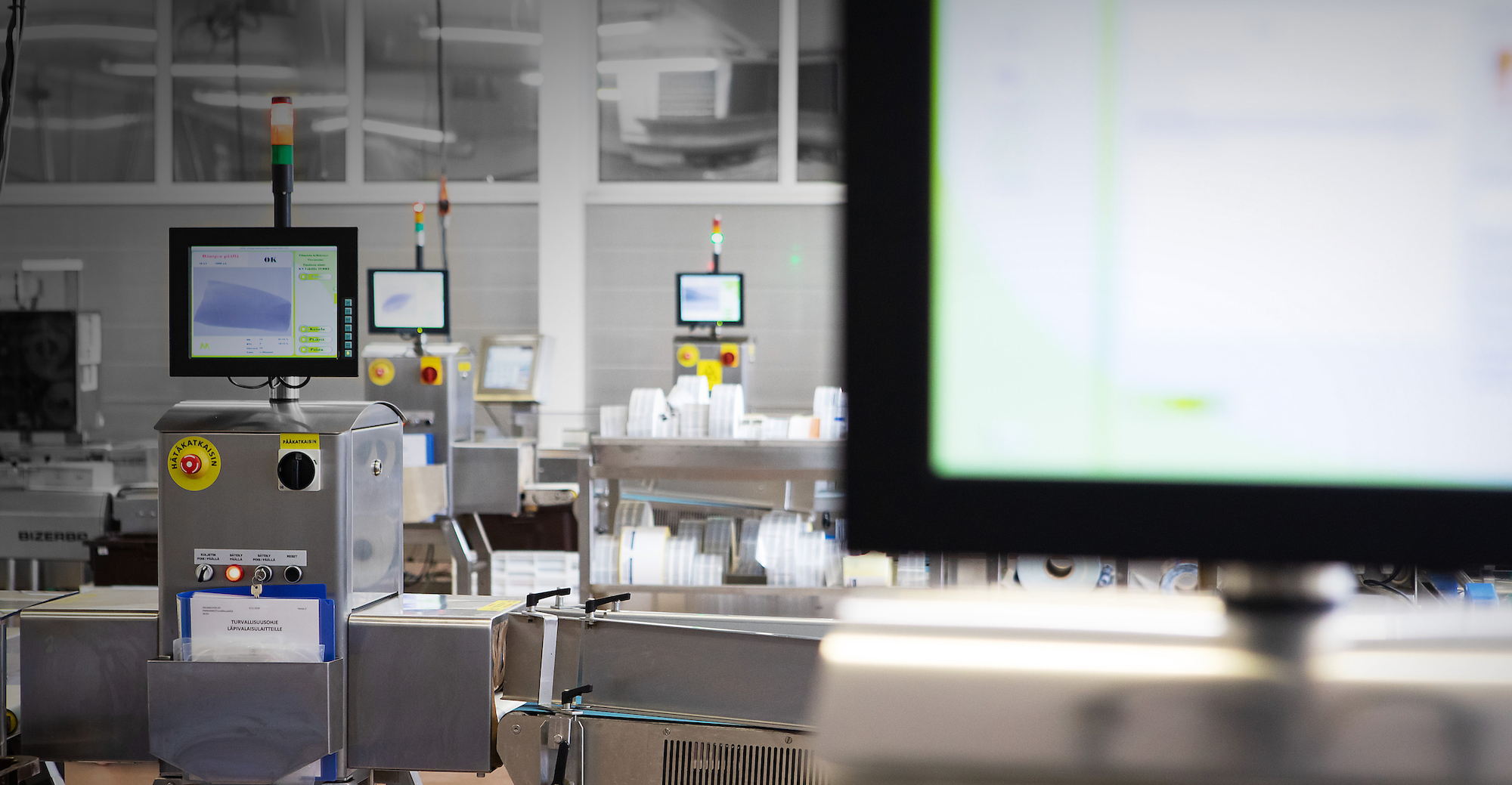 The benefits of
X-ray inspection
compared to Metal Detection
GET MORE VALUE FROM QUALITY CONTROL WITH X-RAY METAL DETECTOR
When the food safety standards started to become more common, metal detectors were the only systems to ensure the safety of the products for a long period of time. X-ray technology is fairly new compared to metal detectors, and by implementing an X-ray system into your production line you get more value from the comprehensive quality control of food.
When comparing X-ray systems and metal detectors, it is evident that X-ray offers comprehensive product safety by detecting various other contaminants than just metals, but also brings other valuable functions to inspect the overall quality of the food products.
PROVEN WAYS TO RAISE EFFICIENCY WITH X-RAY TECHNOLOGY
Metal detector technology is based on the disturbance caused by the conductive and magnetic properties of metal. Usually, the metal detector heads are very compact and can be placed even on top of the production line, but the magnetic field requires several meters of metal-free space around the metal detector. This consumes a lot of valuable space from the production line. Metal detectors also might have product counting functions based on e.g. simple photosensors, that can bring some added value to the food producer.
On the other hand, X-ray technology is based on the inspection of density differentials. This enables the system also to detect other contaminants in addition to metallic ones. Such contaminants might be glass, stones, or high-density plastics. Since the detection is based on density, the X-ray inspection system is able to detect much smaller metallic contaminants than a metal detector, and at the same time detect other types of contaminants.
For example stainless steel (SUS316) has a density of 8,027g/cm3 (i.e. about eight times the density of water) which makes it easy for the X-ray system to detect even small pieces of stainless, ferrous, and non-ferrous. In many cases, the smallest contaminant that an X-ray is able to detect is even smaller than 1mm in size.
WHY X-RAY BRINGS YOU MORE VALUE THAN A METAL DETECTOR
As mentioned before, metal detectors do not offer many additional functions other than product counting. With an X-ray system, you can inspect the overall quality of the products, such as integrity, fill level, and the presence or lack of presence. These additional functions bring major value to food producers since they help to decrease the amount of customer complaints, that might be caused by broken products or missing content.
Another valuable feature in X-ray inspection systems is that it takes and saves a picture of each rejection. This enables full traceability for the food producers to see what foreign objects they might have. The picture also shows where exactly the foreign object is placed without the need to open the product itself.
Read more about food traceability
BE SURE YOU KNOW THIS ABOUT X-RAY AND METAL DETECTORS BEFORE CHOOSING
In the past, the main reason for food producers to choose a metal detector over an X-ray system was cost-related. For many years the X-ray inspection systems required a high amount of investment, a lot of space from the production, they were difficult to operate and expensive to maintain as well.
When calculating the total cost of ownership, you need to consider the investment but also the lifetime costs (i.e. maintenance and spare parts). With a metal detector, these costs are fairly low and with traditional X-ray systems they could be significant.
Mekitec wants to change this division by offering an X-ray system at a reasonable investment cost as well as lifetime cost, making it a true alternative for a better inspection. Our X-ray inspection systems offer the best value to the food producers by keeping the total cost of ownership low but at the same time delivering excellent performance.
Contact us -
we want to help you
INTERESTED IN HEARING MORE ABOUT THE BENEFITS OF X-RAY INSPECTION?
Contact us to learn more about our X-ray inspection solutions for the food industry.
You can also read how other food producers have benefitted from MEKI X-ray inspection systems by clicking the button below.
References