Total Quality Control is
the Future of Food Safety
The Future of Food Safety
What is the future of food safety and where do we see the industry developing in the coming years? How can food producers gear up for the ever-tightening demands of consumers all over the globe?
We believe that the technology available today is breaking the traditional model of quality control in food focused on controlling only metallic contaminants. This model was created before X-ray technology became accessible to every food producer.
Most food producers choose to implement X-ray system as their Critical Control Point (CCP) into their new production lines as well as to replace or complement existing metal detector lines, ensuring the top safety and quality of their products.
Contaminated products that end up in the hands of consumers can cause huge reputational damage to any food brand, not to mention the costly recalls. It is becoming obvious that product recalls have increased significantly during the last decade.
How to Solve Food Safety Issues?
To gear-up against these challenges, it is important to understand what is expected from today's food producers when it comes to the food safety:
Consumer expectations: people are more aware and interested in the origin of the food products, as well as their safety. News articles and social media posts about foreign body findings in food can go viral overnight, and that is why producers need to able to react fast and ensure the safety of each individual package.
Automated quality control: auditors and large retail chains expect food producers to have highly automated production lines, including the inspection, detection and rejection of contaminated or incomplete products.
Automation of Critical Control Points is developing to a higher level, where the quality control system monitors its functionalities and rejection confirmations are becoming a standard in the industry.
Traceability and digitalization: X-ray systems collect more data and store images of the complete production to ensure full traceability. Producers can easily see the reason for the rejection from the X-ray image. These images and production line data are utilized when developing the production efficiency and food safety processes.
In order to overcome all these three challenges, companies working with food industry need to renew their thinking about food safety. It is not about detecting only metal contaminants anymore, but to achieve complete quality inspection.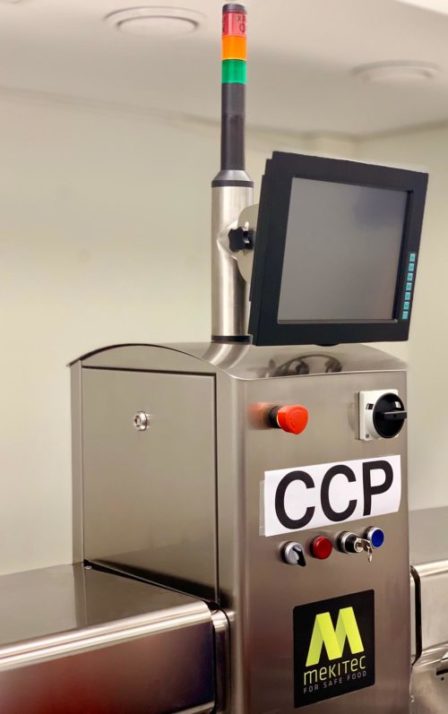 X-Ray Systems
are Here to Stay
The presence of X-ray systems is noticeable also at food industry exhibitions, where X-ray systems with full rejection confirmation are an everyday thing.
This trend is also identified within the food industry; according to Mekitec's customer survey executed through a third-party company, 72,4% of our customers see our cooperation and X-ray technology in the food safety industry increasing in the next three years and 87,2% of them see the increase happening in the next 12 months. This is a clear indicator that X-ray systems are making their way to be the top choice for food inspection.
Download the free
white paper
WHAT MEKI X-RAY SYSTEMS CAN DETECT FROM YOUR FOOD PRODUCTS?
To guarantee the best detection results for our customers, we always conduct our free application tests with their own products. This is how food producers are able to see how well MEKI X-ray inspection system can improve the safety and quality of their products.
Fill in the form to download our free white paper and learn more about the eight most important things you should know about application testing!