German Pet & Animal Food Producer Expands Business After Growth by Word of Mouth
Positive word-of-mouth marketing is a cost-effective marketing method for companies operating in a food industry, and digitalization has made it even easier to utilize. Modern communication tools and channels allow a real-time interaction between customers, which effectively could deliver the message of positive customer experiences to many people. Many pet owners have their own social media accounts for their pets. They share both funny videos and information about quality products. These videos can go viral easily and these pet featured channels may gain hundreds of thousands followers.
Not many companies have knowledge to utilize positive word-of-mouth effectively but a German pet and animal food producer is a great example of how a company, is able to create a significant growth and reveal a new expansion potential, and how the X-ray solutions can facilitate the marketing strategy.
Background information about the producer
The German producer had their own farmland where they produced all their own raw materials allowing them to create a pet and animal food production line. Because the production was completely in-house, the full controllability allowed them to produce high-quality products along with a strong brand reputation. This became their competitive advantage to expand internationally.
The priority to capitalize the growing demand required increased production capacity, but the higher production rate raised questions about quality control of which they did not want to compromise.
The farm already had several quality, hygiene, and safety certifications such as HACCP, ISO standards and organic certification for the organic line, but the growing production level also increased the risk of foreign object contamination. The damages of a large product recall would be disastrous for this type of business, not only financially but also for the brand reputation which is everything for a company that has a stellar reputation.
As a solution, the German pet food producer started to investigate X-ray inspection systems that don't only ensure contamination free production process but brand protection as well.
Comparing cost VS. performance
A specific industry event Anuga Food Expo was a great opportunity for the pet food manufacturer, to find a solution for brand protection and reducing contamination risks. Metal detectors can be considered to have lower prices but their detection capabilities are also limited to metallic objects only. The manufacturer knew, since they produced their own raw material, that glass shards and stones create a much higher risk for their products than metal objects would.
It is a common misconception that even though X-ray systems offer a more comprehensive solution, they usually cost more when implemented into multiple production lines because the cost of a single X-ray system can be significantly more expensive compared to metal detectors. However, the producer's perception changed when they met Mekitec at the Anuga exhibition and learned of the price efficient X-ray food quality control systems. They also learned that while the MEKI systems are capable of detecting foreign objects such as metal, glass, ceramic, stones, hard plastic and rubber; it can detect broken products and missing parts or improper filling of the products, too. The X-ray system is able to inspect through a metal-containing packaging material such as aluminium which is very common packaging material for pet food products.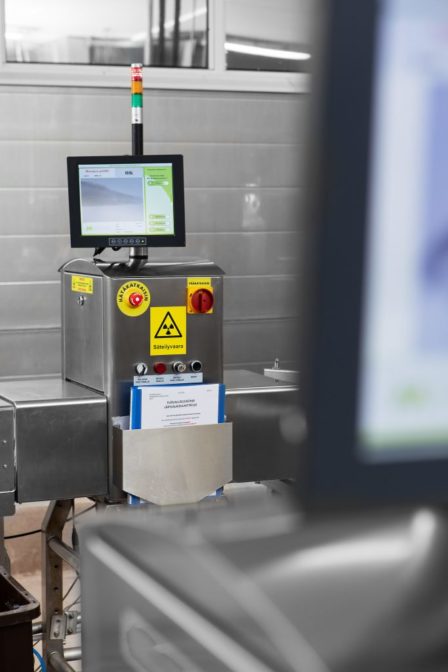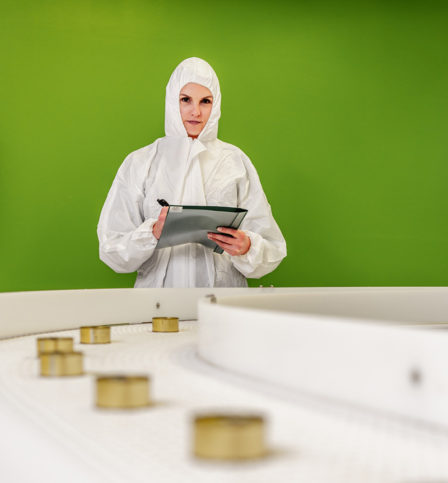 The X-ray implementation process: from demo to solution
Since the demo and results at the stand were impressive, the producer sent various products to Mekitec for application testing. The tests gave accurate results of detection under factory conditions and identified the best settings for each individual product for the three most common foreign objects: metal, glass and stones.
Report of the application test showed that depending on the product density, 0.6-1.2mm metal, 1.5-3.0mm stone and 2.0mm-4.0mm glass objects could be found with 100% accuracy. Also missing clips from the packaging could be detected.
The pet food producer had variation in the production: the production was switched many times throughout the day on their five production lines. Regardless of that, the MEKI X-ray systems were easy and seamless to adjust to their needs without causing any delay in the production, no matter the inspected product.
A final topic of consideration for the manufacturer was the footprint space at the facility coupled with its installation time. The MEKI is designed to be as small and versatile as possible, being easy to setup at the best strategic location to maximize performance without any hidden costs that usually occur when customizing the system for the production line. Installing the system is made easy and with a guided training session from Mekitec personnel, the X-ray system can be operated by anyone.
Foreign objects found in food products by a consumer, especially if their own pet – the most beloved member of the family – is the sufferer, can be an extreme risk for companies operating in a pet food industry. It may cause negative word-of-mouth which can leverage through various digital channels – even on news. Utilizing X-ray quality control systems, it is possible to avoid these risks and make sure that the brand reputation and animal's health are secured.