How to Use
X-Ray to Secure the Safety of Organic Food Products
Using X-Ray to Secure the Safety of Organic Food Products
Packaging World interviewed Tim Abernathy, Continuous Improvement Manager at Made in Nature, who manufactures healthy and organic snack products in the United States. In the interview, he pointed out many important reasons why the company decided to complement its existing metal detection with X-ray inspection.
On this blog, we summarized the article which was originally published by Packaging World in their magazine in 2018.
TRULY ORGANIC FOOD FROM THE US
Made in Nature producers truly organic products that do not contain any additives.
"Our goal is to get back to organic foods that come from the earth and shouldn't be messed with by adding sugars or other additives. There are a lot of labels on foods these days, warning about chemicals inside of them. Made in Nature is all-organic. Fruit is fruit, so that's how it should be, and that's how we maintain it," Tim Abernathy told to Packaging World.
The farms that supply Made in Nature do not use any synthetic preservatives, pesticides, herbicides or fertilizers either, which also makes the company all-organic. They make sure the snack products (such as dried fruits, coconut or kale chips) are grown sustainably, non-GMO and free of other artificial additives, colors or flavors.
The products can be bought from some of the largest retailers in the US, but also through the company's direct e-commerce channels and Amazon.
RETAIL CHAINS AND THEIR REQUIREMENTS
Made in Nature's packaging lines were already equipped with metal detectors, but in addition to detecting the possible metal shavings in the products, they wanted to go one step further:
"We wanted to scan for things that metal detection can't pick up, like glass, rocks, or other non-ferrous foreign objects. We want to make sure that we get all that out of the bag to make sure our brand keeps its good name. We actually validate our suppliers, and most of our suppliers have X-ray metal detection built into their systems before our raw ingredients ever arrive here," Mr. Abernathy explained.
Even though the ingredients go through an X-ray system at the suppliers' facilities prior to the arrival to Made in Nature's, the company still needs to inspect the products for any possible post-processing contaminations in order to get their products on the shelves of major retailers like Walmart, Target, and Costco.
The requirements set by these major retailers can also be very demanding in terms of reporting and collecting data about the production. They can ask for Quality Assurance (QA) measures to watch out for any quality defects, such as under- or overweights, which can be problematic.
"[–] data has become so important these days. We need to know production numbers in real time. We need to know how the machine's doing now, versus getting a report two days later," Abernathy pointed out.
This was the case for Made in Nature, and also one of the reasons they decided to implement an X-ray system with checkweigher.
WHY THEY CHOSE X-RAY INSPECTION?
Even though Made in Nature already had metal detectors in place in their packaging lines, they wanted to enhance the production and its inspection with combi-system (X-ray with integrated checkweigher) to make sure that their products are not over- or underweighted and do not contain any physical foreign objects (e.g. rocks or bolts).
"With this system, we're double-checking the weight after having sent it through the combination scales. We're also able to scan each and every bag that runs through that machine with foreign object detection," Mr. Abernathy said.
Packaging lines equipped with precise inspection systems, checkweigher and necessary rejection systems, together with more detailed reporting and traceability, guarantee that Made in Nature's organic, direct-from-the-farm products exceed all the safety and quality requirements that the major retail chains may have.
Mr. Abernathy has been in the food industry for decades but was still impressed by the combi-system:
"I've been in the food industry 25 years, and I've never seen such a small unit do such a great job of what it does in detection and weighing. I've seen much bigger units do as good of a job. But I don't know how this machine could be any better in the small package that it comes in, it also incorporates the tech layer of data and reporting."
These things might be a few of the most important reasons to implement an X-ray system as a CCP, but there are other motives that drive companies towards X-ray inspection.
In Made in Nature's case, the consumers view them as a high-quality organic food manufacturer and that's the way the company wants it to be. In order to prevent any possible damage to the food brand (such as product recalls), they needed to utilize overall product quality and safety inspection. They also validate their raw material suppliers in order to eliminate any possible contamination risks at early phases.
From the sales point of view, Made in Nature needed a more accurate and thorough inspection in order to get access to larger retailers, and this where implementing fully automated X-ray inspection system supported their growth plan.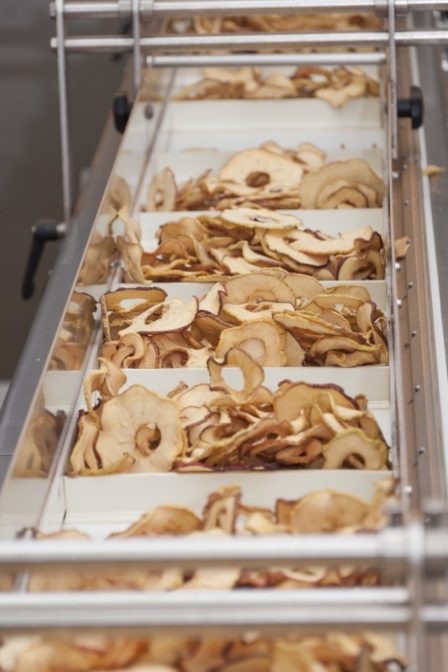 MEKITEC CAN HELP YOU TOO!
Are you facing a product safety problem, or maybe you want to prevent any of those from happening in the first place? We at Mekitec can help you to identify the best inspection solution for your products – just contact us and request an Application Test!
Don't know what an Application Test is? Don't worry! You can download our free white paper and learn how you can benefit from the Application Test.
Download free white paper
Contact us -
we want to help you
Interested to learn more about Food Safety Regulations?
What food safety regulations large retail chains may demand from food producers?
Click below to read more on our blog!
Learn More About Food Safety Regulations