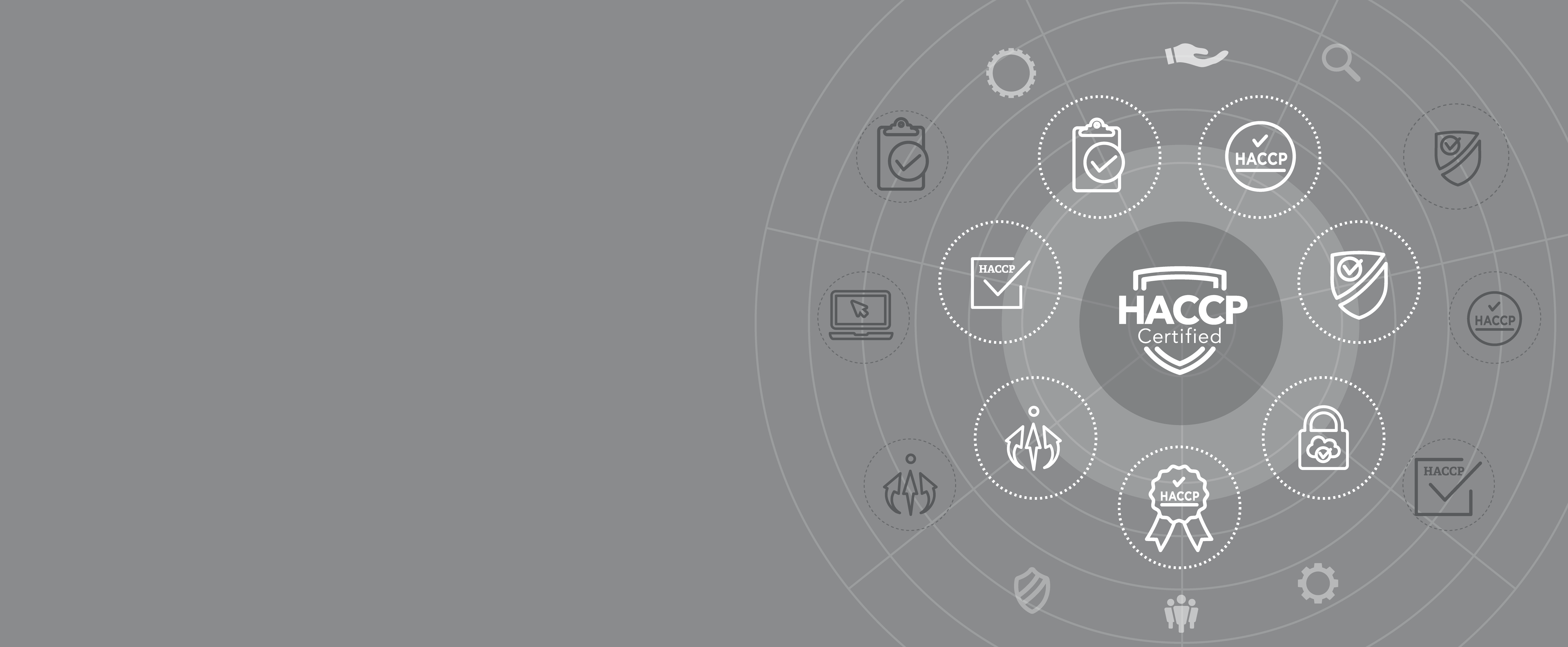 7 Steps To
Safer Food
Production
Introduction to seven principles of HACCP
Have you ever thought about how astronauts eat in space?
In space, it's difficult to set up a table because plates would fly around. Also, crumbles can put astronauts in a huge danger: according to NASA, they could clog air vents, contaminate equipment, or get stuck in an astronaut's eyes, mouth, or nose. That is why even salt and pepper are in a liquid form.
If an astronaut falls ill because of contaminated food, there are much bigger risks. This increases the importance of food safety. Food safety is present during the entire process from designing, producing, and packaging a food product, all the way to storage and delivery and monitoring and controlling the parts of the process, where health risk is identified. It should be taken into account also in the preparation and consumption instructions given to the consumer.
HACCP is the most common food safety approach. It was developed in 1960 when NASA, together with the U.S Army and Pillsbury Company, wanted to find out critical areas in the food processing procedures to ensure crumb and pathogen-free food for upcoming space expeditions. The results of the method proved so successful, that HACCP was later introduced in consumer products, and used in training and education. The seven principles of the HACCP plan were created to ensure safe production methods for commercial food companies because safe food was and still is essential for the people on Earth too, not only for the astronauts in space.
This blog post presents the role of the X-ray system in the seven steps to safer food, which correspond to the seven principles of HACCP. We will focus on physical hazards and how to ensure safe food production with X-ray inspection and by following a correct HACCP plan procedure. If the astronauts can stay healthy with HACCP, so can we all!
What should I do first?
1. Conduct a hazard analysis
The first principle of HACCP focuses on identifying what kinds of hazards there might exist in food production and if there are any actions to help in eliminating or controlling them.
It's important to acknowledge that a risk of foreign object contamination can be present at any point in food production, and each production environment has its own risks which should be assessed. For example plastic, metal and glass can detach from production equipment, tools, or packaging materials, and stones can be present in natural products such as berries and nuts.
The physical contaminants can often be invisible to the human eye, and without any proper control method, it's difficult to be certain that the contamination risk is adequately eliminated or reduced.
The worst-case scenario is to receive a complaint from a consumer claiming to have found a physical contaminant in your food product. This could result in serious damage to the consumer's health and also turn into a massive product recall if the contamination concerns multiple products or batches. A recall can cause long-term damage to the brand image and decrease sales revenue in the B2B context as well.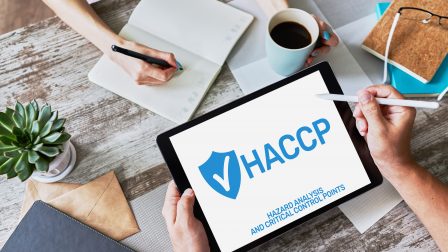 Luckily, there are multiple equipment options to use in eliminating and reducing the risk of foreign objects. With sorters, for example, it's possible to filter out large physical contaminants that may be present in the raw material or pre-production phase. However, these are usually not enough as they do not catch smaller physical contaminants that may remain in the food. The smallest foreign objects can also have an impact on the taste of the product, cause stomach pain, and that way, decrease the sales revenue if customers rate the product worse than competitors.
In addition, sorters do not inspect the food in any way, but only filter and sort products or raw materials depending on their shape, form, color, or weight. This type of equipment doesn't know, let alone alert the production staff if physical contamination would happen. This is why sorters only work as partial food safety control points.
Metal detectors, on the other hand, inspect food but can only detect metallic materials. However, there's a limitation to metal detectors as they are easily disturbed by other metallic materials such as aluminum packaging.
The common physical contamination hazards in many food production environments include materials such as glass, metals, plastics, and stones. The most efficient way to detect these materials is to implement X-ray systems into individual packaging lines.
With the MEKI X-ray system, it is possible to inspect all the physical hazards that pose a health risk for consumers. The smallest contaminants can be less than 1mm in size, which is far below the recommended level stated in the HACCP guidelines. In addition, X-ray images that the system takes of each inspected product can be stored and used in investigating the root cause of any contaminations and taking actions that are required to fix the problem.
Read more about the differences between sorters and detectors here. If you're doubting between the metal detector and X-ray inspection, you find more information here.
What comes after the determination of physical hazards?
2. Determine critical control points
The goal of this principle is to identify points in the production process where the identified risk for foreign objects can be controlled and reduced to an acceptable level. When it comes to physical hazards, primary packaging is the ideal location because it complies with and exceeds all the critical control point (CCP) requirements, determined by the Finnish Food Authority:
A critical control point is characterized by the fact that at that stage

– a health hazard may be present

– the hazard can be identified by measurement or assessment

– the hazard can be controlled

– critical limits can be defined

– if the critical limit is exceeded, safety can be ensured by corrective action
Here you can read more about primary packaging inspection or you watch our webinar about primary packaging to hear how to get the best value from your critical control point, introduced to you by Juho Ojuva.
What should I do next in my HACCP plan?
3. Establish critical limits
Each CCP should have its own critical limits which are set for each identified contamination risk. The limits may vary based on the selected technology, product, and identified contaminant. The values are usually set together with the CCP system provider to ensure the optimal detection rate is achieved.
If the selected technology is an X-ray system, application tests are a great way to find out what are the system's detection capabilities for each foreign contaminant and possible quality functions. Mekitec offers free-of-charge application tests and based on the test results, you can determine the critical limits for your CCP and record them in your HACCP plan.
Download our eBook and learn more about application testing.
How do I ensure these limits are met?
4. Establish monitoring procedures
The fourth step requires a plan for monitoring the control point, in our example the X-ray inspection system. This means carrying out pre-agreed assessments and performance tests on an ongoing basis, monitoring the control point against target levels and critical limits, as well as monitoring practices: what is monitored, by what method, how often, by whom, how it is recorded, to whom it is reported (FFA). The purpose of this principle is to establish measurements and actions to be done if deviations occur in the usage or performance of the CCP.
Usually, the performance of the X-ray inspection system is tested before and after each production batch to make sure that the system works properly, and also multiple times during long productions (e.g. once an hour). The MEKI X-ray system will take picture of each food product that flows through it. These pictures are stored in one place and are easily available when there is a need for tracing batches or single food products, timings, and the overall performance of the equipment. This works as an accurate record of verification that is needed to comply with the fourth principle of HACCP.
What is the next step after this?
5. Establish corrective actions
A great plan is not completed without any preparations for deviations in the process. That is why establishing corrective actions is a key step in HACCP planning. To get started with this step, you can ask your HACCP team what should be done to prevent possibly hazardous food from reaching consumers?
In an event of contamination, at least the following steps should be taken
executing a root cause analysis to prevent reoccurrence
finding out the disposition of the contaminated product and issuing a possible recall
recording what corrective actions are and have been done
Corrective actions can be e.g., removing potentially hazardous materials from the production environment, making changes to the production process, etc. The goal is not just to correct the outcome but also to ensure that the problem does not reoccur. Finally, the event is recorded in the HACCP records. This is important in case the problem would reoccur regardless of the corrective actions, it can be tracked and investigated further.
In our latest eBook, we explain in more detail how X-ray data can help in root cause analysis in case physical contamination is identified, as well as in production optimization to ensure such incidents won't happen again.
What should I do next?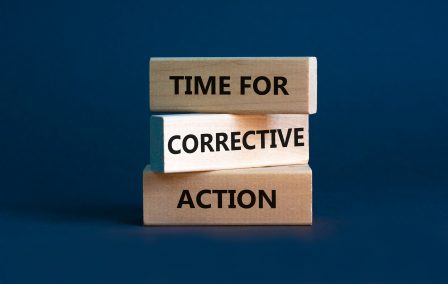 6. Establish verification procedures
Verification procedures are a way to evaluate the complete HACCP system and its functionality. Its purpose is to validate the created HACCP plan and may usually require help from industry experts to have scientific or technological justification for the steps agreed in the plan.
This verification can be done by appointed individuals within the company who have the needed knowledge of each control point in the HACCP system, or with the help of third-party experts such as regulatory agencies, equipment vendors, food scientists, etc. If you're unsure about the appropriate implementation of foreign object control points in your HACCP plan, you can always contact us, and we can get you started!
Is there anything else I should pay attention to?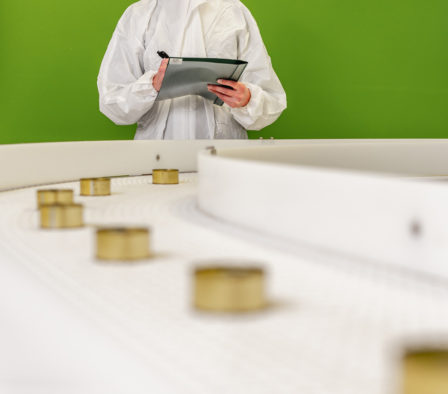 7. Establish record-keeping and documentation procedures
HACCP is a continuous process for food producers, and it requires frequent maintenance with scheduled activities and individuals who are responsible for following the procedures.
HACCP system is not complete without proper records of the responsible personnel and teams, identified hazards and their critical limits, established control points and their monitoring measurements, as well as corrective actions, verification, and record-keeping procedures. X-ray systems contribute to record-keeping by providing X-ray images of individual products. This data can be easily compiled into reports that work as visual proof of the critical control point's operational performance.
Finally, after completing these seven steps for each contamination risk, your HACCP plan is finished. However, it's important to keep in mind that this is not a one-time action but rather a continuous process requiring frequent maintenance with scheduled activities and individuals who are responsible for following the procedures. By training your staff to follow the steps, you can ensure safer food for everyone.